Electrical Engineering / 전기전자공학과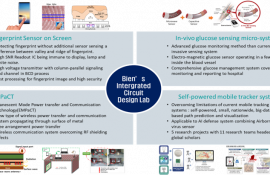 Current Research activities at BICDL (pronounced as 'big-deal!') includes mixed-signal, Analog & RF integrated circuits (IC) design for consumer electronics & bio-medical applications. We also have various projects for Wireless-Power Transfer technology including PMIC (Power Management IC) designs. Some of the recent projects were funded by Samsung Display, Samsung Electronics, LG Electronics, Hyundai Motor Company, Hyundai Heavy Industry, DSME, KEPCO & many other government-funded projects.
As of May 2023, we published 67 international journal papers, 68 international conference proceedings, 33 international patents, and 75 domestic patents. So far, 9 Ph.D. and 16 M.S Degree students graduated from BICDL, and currently 11 members are researching and working together at BICDL. Come join us for your bright future! :)
# Do you want Big Deal?! Come to BICDL
# Visit the website at http://bicdl.unist.ac.kr for more information.
Major research field
mixed-signal, Analog & RF integrated circuits (IC) design for consumer electronics & bio-medical applications, Wireless Power Transfer
Desired field of research
in-vivo continuous glucose sensing micro-system, Wireless power transfer, mixed analog/RF integrated circuit(IC) design for communication
Research Keywords and Topics
fingerprint sensor on screen, in-vivo continuous glucose sensing micro-system, Wireless power transfer, evanescent mode power-transfer and communication technology (EMPaCT), mixed analog/RF integrated circuit(IC) design for communication
Research Publications
MORE
• IEEE Transactions on Biomedical Circuits and Systems (T-BCAS), "An On-/Off-time Sensing-based Load-Adaptive Mode Control of Triple Mode Buck Converter for Implantable Medical Devices," Woojin Park, Gyeongho Namgoong, Eunho Choi, and Franklin Bien**, 23 Jan., 2023
• IEEE Transactions on Circuits and Systems (T-CAS) I: Regular Papers, "Real-Time External Compensation System With Error Correction Algorithm for High-Resolution Mobile Displays," Kyeongmin Park, Seunghun Oh, Dongjin Choi, Kyeonghan Shin, Haewan Cho, and Franklin Bien**, 30 Nov., 2022
• Scientific Reports, "Subcutaneously implantable electromagnetic biosensor system for continuous glucose monitoring," Seongmun Kim, Jagannath Malik, Jong Mo Seo, Young Min Cho, and Franklin Bien**, Vol. 12, Issue. 1, No. 17395, 17 Oct., 2022
Patents
• 미국특허) 다이폴 형태의 마이크로파 센서를 이용한 체내 이식형 포도당 측정 마이크로 시스템, 변영재 / 장희돈/나경민, (등록일 2022.05)
• 유럽특허) 차량 내 통신 장치 및 방법, 변영재, (등록일 2022.01)
국가과학기술표준분류
ED. 전기/전자
ED99. 기타 전기전자
ED9999. 달리 분류되지 않는 전기/전자