전기전자공학과 / Electrical Engineering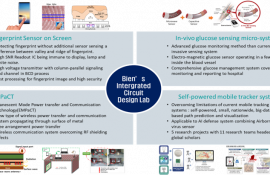 최근 BICDL (빅딜)의 관심 연구 분야는 mixed-signal, Analog & RF integrated circuits (IC) design for consumer electronics & bio-medical applications입니다. 그리고 PMIC (Power Managment IC) 를 비롯한 다양한 무선전력전송 프로젝트를 진행중입니다. 최근 프로젝트를 함께 한 기업으로는 삼성 디스플레이, 삼성전자, LG 전다, 현대자동차, 현대 중공업, 대우조선해양, 한국전력공사 등이 있습니다.
2022년 2월까지 SCI급 국제논문 64편, 국제 컨퍼런스 논문 68편을 게재하였고 다수의 국내외 특허를 보유하고 있습니다. 지금까지 박사 6명, 석사 17명을 배출하였고 현재는 13명의 학생들이 함께 연구 중입니다. BICDL에서 함께 연구 할 수 있길 기대하고 있겠습니다!
# Do you want Big Deal?! Come to BICDL
# Visit the website at http://bicdl.unist.ac.kr for more information.
관심분야
mixed-signal, Analog & RF integrated circuits (IC) design for consumer electronics & bio-medical applications, Wireless Power Transfer
희망분야
in-vivo continuous glucose sensing micro-system, Wireless power transfer, mixed analog/RF integrated circuit(IC) design for communication
Research Keywords and Topics
fingerprint sensor on screen, in-vivo continuous glucose sensing micro-system, Wireless power transfer, evanescent mode power-transfer and communication technology (EMPaCT), mixed analog/RF integrated circuit(IC) design for communication
터치스크린 지문 센싱, 체내 혈당 연속 측정, 무선전력전송, 에베네센트를 이용한 전력전송 및 통신, 통신을 위한 아날로그/디지털 통합회로 설계
Research Publications
MORE
• IEEE Transactions on Circuits and Systems (T-CAS) I, "Differential Coded Multiple Signaling Method with Fully Differential Receiver for Mutual Capacitive Fingerprint TSP," S. Heo, K. Park, E. Choi, and F. Bien**, Vol. 67, Issue. 1, pages: 74-85, 1 Jan., 2020
• IEEE Transactions on Biomedical Circuits and Systems (T-CAS) I, "A 6.78MHz, 95.0% Peak Efficiency Monolithic Two-Dimensional Active Rectifier for Wirelessly Powered Implantable Biomedical Devices," G. Namgoong, E. Choi, W. Park, B. Lee, H. Park, H. Ma and F. Bien**, Vol. 15, Issue. 3, pages: 509-521, 25 May., 2021
• IEEE Transactions on Power Electronics, "Free Arrangement Wireless Power Transfer System with a Ferrite Transmission Medium and Geometry-Based Performance Improvement," S. Seo, H. Jo, and F. Bien**, May 01, 2020, Vol. 35, Issue. 5, pages: 4518-4532
Patents
• 자기장 표면파를 이용한 무선 데이터 통신 장치, 변영재 / 박우진, (등록일 2020.09)
• 주파수변환장치를 적용한 표면파 안테나의 디지털 통신 효율 향상, 변영재/사이오루간티/허상현/박우진/서석태/이본영, (등록일 2020.05)
국가과학기술표준분류
ED. 전기/전자
ED99. 기타 전기전자
ED9999. 달리 분류되지 않는 전기/전자