경영과학부 / School of Business Administration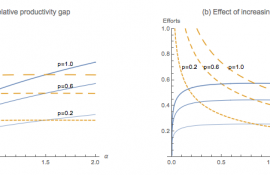 I study applied macroeconomics, with special interests in:
* open macroeconomics
* economic growth
* housing markets
관심분야
applied macroeconomics, open macroeconomics, economic growth, housing markets
희망분야
income distribution, human capital
Research Keywords and Topics
international capital flows, economic growth, human capital
Research Publications
MORE
"Regime Switching in the Present Value Models: A Backward-solving Method." Finance Research Letters, vol. 32, 2020 (with Jan. R. Kim).
"Inefficient Competition in Shadow-Education Investment." Journal of Economic Behavior & Organizations, vol. 139, 2017 (with Dongryul Lee).
"Foreign Debt Supply in an Imperfect International Capital Market: Theory and Evidence." Journal of International Money and Finance, vol.29, 2010 (with Stephen J. Turnovsky).
국가과학기술표준분류
SC. 경제/경영
SC02. 거시경제
SC0201. 경제성장