바이오메디컬공학과 / Biomedical Engineering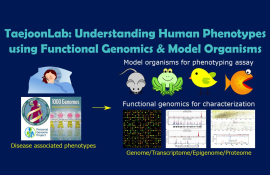 저희 연구실은 질병 관련된 유전자의 기능을 진화적 관점에서 이해하기 위해 여러 모델 동물의 데이터를 연구하고 있습니다. 대규모 기능 유전체 데이터 분석을 통하여 유전자의 새로운 기능을 찾고, 관련된 형질을 연구합니다. 공학적 관점에서 이러한 연구에 필요한 새로운 실험 기법 역시 같이 개발하고 있습니다.
We studies the function of human genes involved in diseases, based on their deep homology in multiple organisms. By utilizing large-scale functional genomic data in multiple organisms, we computationally infer the role of uncharacterized genes (or novel function of already characterized genes) in phenotype that we are interested in. By integrating engineering perspectives, we also develop novel experimental platform to validate our predictions in model organisms.
Major research field
기능유전체, 단백질체, 모델동물, 질병 모델링 / Functional genomics, Proteomics, Model organisms, Disease modeling
Desired field of research
희귀질환 모델링 / Rare genetic disease modeling
Research Keywords and Topics
- 다중오믹스 정보와 영상 정보를 결합한 질병 유전자 스크리닝 및 진단 연구
- 제노프스 배아 표피의 다중섬모 상피조직을 이용한 섬모이상증 연구
- 진화적 상동성 기반 다양한 모델동물의 유전자-표현형 상관관계 연구
- Disease gene study for screening and diagnostics, integrating multi-omics data with images.
- Ciliopathy modeling in the mucociliary epithelium of Xenopus embryos
- Deep homology-based study for cross-species genotype-phenotype relationship
Research Publications
MORE
- Proc Natl Acad Sci USA, Precision targeting tumor cells using cancer-specific InDel mutations with CRISPR-Cas9, Kwon T, Ra JS, Lee S, Baek I-J, Khim KW, Lee EA, Song EK, Otarbayev D, Jung W, Park YH, Wie M, Bae J, Cheng H, Park JH, Kim N, Seo Y, Yun S, Kim HE, Moon HE, Paek SH, Park TJ, Park YU, Rhee H, Choi JH, Cho SW, Myung K (2022)
- Aging Cell, Adaptive cellular response of the substantia nigra dopaminergic neurons upon age-dependent iron accumulation, Kwon K, Cho H, Lee S, Cho EJ, Yu W, Kok CYL, Je HS, Kim JI, Cho HJ, Kwon T (2022)
- Cell Rep., Regulation of RNA localization during oocyte maturation by dynamic RNA-ER association and remodeling of the ER, Hwang H, Yun S, Arcanjo RB, Divyanshi, Chen S, Mei W, Nowak RA, Kwon T, Yang J (2022)
Patents
COMPOSITION FOR INDUCING DEATH OF CELLS HAVING MUTATED GENE, AND METHOD FOR INDUCING DEATH OF CELLS HAVING MODIFIED GENE BY USING COMPOSITION, K MYUNG, T KWON, I-J BAEK, JS Ra, Y SEO, S YUN (2019. 11.)
MICROBE DETECTION METHOD USING FISH ANALYSIS, J KANG, T KWON, H KIM, S KIM, M LEE, H HYUN, HS KO (2020.12.)
국가과학기술표준분류
LA. 생명과학
LA02. 유전학·유전공학
LA0205. 형질전환 생물모델
국가기술지도분류
건강한 생명사회 지향
021900. 생체정보분석/활용 기술
6T분류
BT 분야
기초/기반기술
020111. 유전체기반 기술