Biomedical Engineering / 바이오메디컬공학과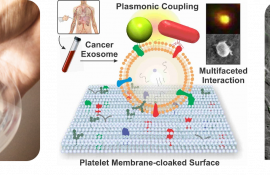 The main research theme in YK Cho's research group is focused on the development of lab-on-a-chip system with fundamental understanding of bio-molecular interactions and fluidic behavior in micro/nano scales. A family of unique microfluidic platforms are utilized to probe cells with unprecedented precision and to have systems understanding of cellular communications in tumor microenvironment. Current research topics include a lab-on-a-disc for the detection of rare cells, exosomes, and cancer biomarkers, quantitative analysis of single cells, and system analysis of cell to cell communication.
마이크로/나노 스케일의 미세유체현상과 바이오물질 반응에 대한 기본적인 이해를 바탕으로 새로운 기능과 성능을 갖는 랩온어칩 시스템 개발과 바이오메디컬분야 응용이 주요 연구 분야이다. 랩온어칩은 실험실에서 큰 장비를 이용해야만 분석 가능한 각종 생화학 반응을 바이오칩이나 미세유체칩을 활용하여 빠르고 정확하고 언제 어디서나 수행 가능하도록 하는 시스템을 뜻하며, 세포분석, 단백질 및 유전자 검사 등 바이오메디컬공학 분야에서 크게 각광받는 분야이다. 특히, 랩온어디스크 분야의 세계적 선도 연구 그룹이며, 최근에는 혈액, 소변 등 체액으로부터 암세포, 엑소좀 등을 분리하여 개인맞춤형 암진단 및 치료에 활용하는 액체생검 디바이스를 개발하고 상용화한 바 있다. 또한, 암세포미세환경 및 세포간 신호교신 연구를 위한 세포칩 및 오간온어칩, 단일세포분석 등 첨단 융합 연구에 집중하고 있다.
관심분야
Lab-on-a-chip, Nanobio materials, Point-of-care diagnostics, Biomimetics, AI-assisted Nanomedicine, Precision medicine, Translational research
희망분야
Exciting, multidisciplinary, challenging but high societal impact research at the interface of engineering and life sciences
Research Keywords and Topics
Microfluidics, Lab-on-a-chip, Personalized Medicine, Liquid Biopsy, Nanobioengineering
Point-of-care diagnostics, Biosensors, Organ-on-a-Chip, Nano Chemistry, Soft Matter
미세유체제어, 랩온어칩, 바이오칩, 세포칩, 오간온어칩, 개인맞춤의료, 정밀 의료, 액체생검,
나노바이오공학, 현장맞춤형진단기기, 바이오센서, 나노화학, 연성물질, 생물 물리
Research Publications
MORE
• Nature Biomedical Engineering 4, 591–600,"A fidget spinner for the point-of-care diagnosis of urinary tract infection", Issac Michael, Dongyoung Kim, Oleksandra Gulenko , Sumit Kumar, Saravana Kumar , Jothi Clara, Dong Yeob Ki, Juhee Park , Hyun Yong Jeong, Taek Soo Kim, Sunghoon Kwon  and Yoon-Kyoung Cho , (2020.05)
• Nano Letters 20, 1, 441-448, "Near-field electrospinning for 3D stacked nanoarchitectures with high aspect ratio", Yang-Seok Park, Junyoung Kim, Jung Min Oh, Seungyoung Park, Seungse Cho, Hyunhyub Ko, and Yoon-Kyoung Cho, (2019.11)
• Advanced Functional Materials, 29, 30, 1902669, "Human Platelet Membrane Functionalized Microchips with Plasmonic Codes for Cancer Detection", Sumit Kumar, Jae‐A Han, Issac J. Michael, Dongyeob Ki , Vijaya Sunkara, Juhee Park , Shreedhar Gautam, Hong Koo Ha, Liangfang Zhang, Yoon-Kyoung Cho, (2019.05)
Patents
• "Particle Filtration device and method of particle filtration), Yoon-Kyoung Cho, Tae-Hyeong Kim, KR10-1776245(2017.09.01), JP6371857(2018.07.20), US10465186(2019.11.05) EP3048163(2020.04.08)
• "Microfluidic devices and control system for the same", Yoon-Kyoung Cho, Tae-Hyeong Kim, Yubin Kim, KR10-1638941(2016.07.06), EP3020682 (2019.01.09), US10130948(2018.11.20), JP6192850(2017.08.18)
국가과학기술표준분류
LA. 생명과학
LA07. 융합바이오
LA0701. 바이오칩
국가기술지도분류
건강한 생명사회 지향
021300. 바이오 칩/센서기술
6T분류
BT 분야
기초/기반기술
020118. 바이오칩 개발기술