Integration, Innovation Design Lab
통합과 혁신디자인연구실
관련기사 바로가기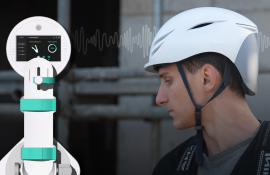 Integration and Innovation Design Lab develops innovative products by converging design and engineering and specializes in researching related methods and processes. In particular, we have been conducting research to apply and demonstrate these methods and processes in design for the elderly, rehabilitation device design, and health and safety design.
For designers to show leadership in the product development process, they must be able to present a creative design concept as well as have the ability to realize the design by applying technology and engineering principles. They must also be able to work with professional engineers to apply new technical principles to their concepts. To achieve this, our laboratory expands and explores the design process to the entire product development process and actively utilizes engineering knowledge in the design process to create design-engineering convergence knowledge and innovative design.
Product design and development are completed through three elements: functionality, usability, and aesthetics. Functionality is achieved by applying mechanical, electrical, and electronic principles to the design as a technical element necessary for the primary function of a product to achieve its performance. Usability is a factor related to ergonomic performance, such as size, shape, interaction, and interface of a product, that is determined by the user's physical and mental characteristics and is determined through a human-centered design method. Aesthetics is an element related to the symbol or emotion expressed by the product depending on user types or environment the product is used in and is achieved through an aesthetic and emotional design approach.
We comprehensively explore industrial design, engineering design, and ergonomic design methods and processes to apply these three elements. Based on this, we are creating a model in which design-led product development directly contributes to society and industry through technology transfer and commercialization by implementing creative design concepts into products.
Representative research and development results include 'data-based elbow-joint rehabilitation equipment,' 'brain wave-based smart helmet,' and 'ICT-based body balance and stretching training equipment.' Examples of technology transfer and commercialization include 'UCUBE,' a creativity education training toy, and 'Anybaro,' a home stretching training equipment. Currently, we are conducting a design study of a robot product service system for caring for the entire life cycle of the elderly.
Our research and experiences equip our lab students with design creativity and engineering realization skills. In addition, it helps students acquire the qualifications and capabilities as design engineers who can lead the entire product development process by switching back and forth between designers and engineers.
Developed products actively promote technology transfer and commercialization to create a model that contributes to society and industry through design initiatives. Through our achievements, we are proud to be the only laboratory at home and abroad leading the design-engineering integrated product development methodology field. This experience enables our lab students to have design creativity, engineering skills, and qualifications to direct the product development process as design engineers.
관심분야
Integrated Design Methodology, Design for Elderly, Rehabilitation Design, Health care and Safety Design, Ergonomic Design
희망분야
Smart sliver care and assistive device development, Smart rehabilitation development, Ergonomic physical device design, Smart factory management system UX/UI
Research Keywords and Topics
현재 진행중인 연구들
1. 노인 전주기 돌봄 로봇 제품-서비스 시스템
- 대상: 초기 노인에서부터 후기 노인까지의 전체 노인
- 노인 사용자들이 독립적으로 만족한 삶을 살 수 있도록 돌봄을 제공하는 지능형 제품-서비스 시스템의 디자인 및 개발
- 집사로서의 서비스 로봇: AI를 이용한 음성인식, 지능형 피드백 제공, 노인의 상태에 대한 지능적 판단
- 노인의 일상을 돕는 지능형 제품군 및 노인의 활동과 신체 움직임 데이터를 모으는 센싱장비
2. 특전배낭
- 무게분산기능을 갖고 있는 인체공학적인 군 배낭 및 프레임 개발
3. 지능형 상지 재활 기구 개발
- 데이터 기반 진단 및 훈련
- 능동적, 보조적, 수동적 훈련
- 노인 환자를 위한 병원 및 홈 트레이닝 제공
4. 연하장애 재활 훈련 기구 개발 디자인 및 개발
- 삼킴장애 환자에 재활 기구 및 프로그램 개발
- 데이터 및 시각적 피드백을 적용
- 사용자의 훈련 동기 강화 개념을 적용한 UI
5. 중장년을 위한 가정용 하지 근력 훈련 기구 디자인 및 개발
- 놀이 개념을 접목한 동기강화 프로그램 제공
- 혼자서도 할 수 있는 수준별 스쿼트 프로그램
- 외발서기 공 끌어오기 개념 적용
6. 스마트공장의 생산효율성 최적화 UX/UI
- 각 단위 셀의 생산 효율 예측 프로그램에 대한 UX/UI
- 빅데이터 기반 종합 생산 효율성 예측 및 관리 UX/UI개발
Research Publications
MORE
Applied Ergonomics, "Effects of cursor freeze time on the performance of older adult users on mouse-related tasks," Tufail, M., & KM. Kim, June 2017
Design Studies, "Collaborative Product Design Process of Industrial Design and Engineering Design in Consumer Product Companies," KM. Kim, KP Lee, 2016
Design Studies, "Cognitive styles in design problem solving: Insights from network-based cognitive maps," EJ Kim, KM. Kim, 2015
Patents
미로형태의 큐브 블록, 김관명, 양지현, 김명진, 2019.12.27
운동 및 재활치료를 위한 보조장치, 김관명, 김명진, 2019.04.29
국가과학기술표준분류
HE. 문화/예술/체육
HE04. 제품디자인
HE0402. 산업용제품/기기디자인
국가기술지도분류
기타 분야
060000. 국가기술지도(NTRM) 99개 핵심기술 분류에 속하지 않는 기타 연구
녹색기술분류
녹색기술관련 과제 아님
녹색기술관련 과제 아님
999. 녹색기술 관련과제 아님
6T분류
기타 분야
기타 분야
070000. 위의 미래유망신기술(6T) 103개 세분류에 속하지 않는 기타 연구